The mango gummy
If you live inside a national park you tend to take more advantage of the nature. So on my last day on the island I decided I would follow the trail up to the peak of mount Maxwell one last time. Often my walks through the park turned into a work out with pit stops to absorb the scenery, greenery and sounds of the wind whistling through the trees. To me it's a reminder that we are truly alone in the world and as an independent person and only child I've learned and practiced many ways to keep myself busy. I've got my games and my moments of reflection. Nature proffers reflection on my thoughts and future actions by way of its solitude. In my life that's similar to meditation and what happens most nights before I fall asleep. Alone through out the whole trek I soaked up the sun on one of the benches and began my return. As I treaded back to the trail home I trade places with the car just pulling into the parking lot. I laughed about it and continued on my way shining in the irony stopping half way down to absorb a certain clearing and fork in the path. I looked down and I saw it, Cocoland lot100 Mango Gummy. Glowing yellow like the sun in between the trees I picked it up, my newfound treasure. Upon inspection I noticed the gummy came from Malaysia! Perfect timing all things considered. A smile crept upon my face beaming down on my find. I wanted to eat it right there, but instead I put it in my pocket and elected hold on to my booty. Having had the whole trail to myself I bumped into a newbie figuring out exactly where to enter the trail. I passed on my direction pointing out the fork in the road where he had to follow to the left. A lot of messages you can read out of my morning accent, facing my own forking the road of life, seeing signs and accepting the first destination as the reality it is.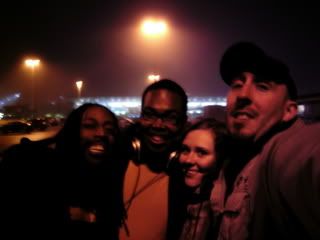 So as I sit here at the airport sipping on a warm cup of java it's finally kicking in. (the journey as well as the coffee) Oh the airport… What a relationship we have. We're never together very long, but always sharing very intimate moments in time. Transitional affairs that could rarely be considered one-night stands. I see the faces, everyone with something in common. Coming from somewhere, going somewhere, working in it or loitering. It's an intricate yet simple relationship that I've learned to build and love.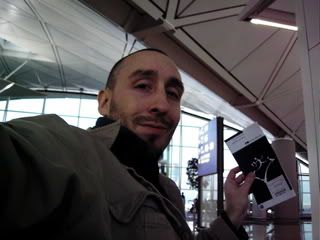 Well… I'm in HK… Sitting in the waiting lounge after a lengthy flight. I managed to accomplish quite a bit, with the exception of sleep…I did a fair bit of writing and thinking. I shed a tear. I watched two movies and I got my food before everyone else! Yes, I pulled the old special meal trick… So free Wi-Fi is good, I've already been on MSN, checked my emails and now going to upload this blog once I'm done writing. Wont be too long now though, my flight to KL leaves in about an hour. I'm caught between imagining there will be someone to pick me up in KL when I get in, to thinking if there isn't I can just settle in there and hop on the free Wi-Fi and see what happens... Too bad Telus has YVR all locked down and you have to pay, Canada is so wack when it comes to the stranglehold the telcoms have over the public. Anyways, check the photos and I'm out!!! Cocoland here we come!!!